In the following article we are going to help you navigate the many door lock options we stock here at Doorfit. From common Euro Cylinders to our less conventional budget lock options, we have security mechanisms to suit a variety of demands.
If you are comparing options or simply looking for an insight into the different styles of door locks our guide, outlined below, will be of use. 
Rim Cylinder Locks 
A rim cylinder lock refers to the outer shell that you insert a key into to open your door. The rim cylinder lock is the locking component of a rim night latch system. They are typically used on wooden or timber doors and offer a simple security system which boasts low maintenance and low replacement costs. Options other than the security versions are, however, susceptible to picking and drilling. 
Ultion Locks 
The Ultion 3 Star Anti Snap system available at Doorfit is a durable and strong Euro Cylinder locking system. If you are looking for something reliable, Ultion locks are always a sensible option. This lock has the highest Kitemark rating and is widely approved by police services. The steel pin and plate assembly also offer excellent protection against drilling and picking. 
Oval Cylinder Locks 
The Oval Cylinder is less prevalent in modern applications. Still, they can be found and used in more commercial settings. Just like the classic Euro Cylinder they come in different configurations. They are used in conjunction with Oval Mortice Lock Cases and are available in double or half types. 
Rim Lock 
Simple design and execution is what Rim Locks are all about. These systems are straight forward; containing a latch and a deadbolt lock. The intended application is to the side of the door that opens inwards. 
Mortice Locks 
To make way for this locking mechanism, a pocket (known as a mortice) is cut into the edge of the door. The lock is then fitted into this pocket. Mortice Locks come in Deadlock and Sashlock variations; both utilising a deadbolt which is thrown into the keep upon key entry. The Sashlock style has the added advantage of a latch bolt to hold the door in a closed position if required. 
Multipoint Locks 
Multipoint Locking systems provide an added layer of security by, generally, extending to the full height of the door and having multiple locking points. They tend to offer a tighter seal also; improving security and making them more energy efficient.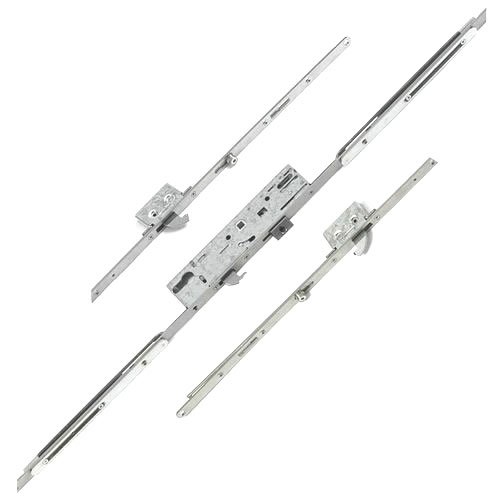 Budget Locks 
Budget Locks are an unconventional take on the standard lock and key. They typically utilise a unique key system and are ideal for smaller applications. A Budget Lock would be great, for example, on meter boxes, window handles, enclosures. 
Escape Locks 
Escape Locks allow you to retract the latch and deadbolt by pulling the handle. This saves the user time trying to insert a key into the lock. They are generally found in commercial and public buildings 
Euro Cylinder Locks 
Like the Oval Cylinder, the Euro Cylinder has a lot of different variations. They are commonly used and are therefore easy to replace/ maintain. You typically have three options to choose from when selecting a Euro Cylinder lock. These are as follows: keyed on both sides, half Euro keyed on one side and thumbturn. These offer varying levels of security and convenience. 
UPVC Door Locks 
The UPVC door lock is a multipoint system designed for UPVC applications. These work well on patio doors for example. They have a number of different locking points from hook and roller to deadbolt and mushroom roller. 
Thank you for reading our summary of the different lock styles available here at Doorfit. You can explore our whole range by visiting the Door Locks page. Alternatively, for more product related posts, you can visit our blog here!