The Queen Elizabeth Hospital is one of the UK's flagship PFI projects and has the largest co-located critical care unit of any hospital in the world. Since opening in Birmingham in 2010, facility management company Engie have utilised our support services to ensure the hospital is kept fully operational 24/7. No small challenge when the NHS is under such pressure to cope with the UK's ageing population. Doorfit work daily with the team at Engie to source and stock key products, providing a same day service as and when needed.
Master Keyed Cylinders and Access Control
Doorfits dedicated in house master key facility allows us to supply new master key suites in a few days and replacement keys and locks can be issued within 24 hours. Choosing from a range of medium to high security options our specification team can help you design a bespoke master key suite to fit your needs and budget.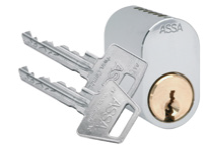 to assist you through the whole process, from initial site survey to completed installation.